1:
DRIVE
(Nicholas Winding Refn)

In terms of style, acting, soundtrack, vibe, vision and execution DRIVE was unbeaten for me. Perpetuating the classic themes of the anti-hero and the void within contemporary urban living, DRIVE nailed it, whilst still feeling fresh and thoroughly modern. The Gosling/Winding Refn duo will hopefully continue for many years to come.......im still humming....and a real hero/real human being.............
2: ANIMAL KINGDOM (David Michod)
Released at the start of the year, no other film has lingered with me so long. The final scene shattered my bones and mind in the hungover state in which watched. Remarkable performances combined with incredibly tense and concise direction. A near perfect crime movie.
3: SENNA (Asif Kapadia)
The only movie this year to make a real life tear fall out of my face. An riveting and emotional portrayal of one incredible individual. Fused with incredible storytelling technique from the filmmakers.
4: SUPER 8 (J.J. Abrams)
Nostalgia never tasted so good. JJ Abrams' version of a Spielberg classic is way more than nod to his mentor. It succeeds perhaps by purely being a great retelling of the themes and style of early Spielberg, but Abrams executed this with such sincerity and class I cannot fault it. Someone else, said that instead of blogging about his influences, Abrams' went and did it himself...respect to that! The train crash sequence was probably one of the most exhilarating scenes on film this year. Also outstanding performances from the young cast...Elle Fanning, Kyle Chandler.
5: CAVE OF FORGOTTEN DREAMS (Werner Herzog)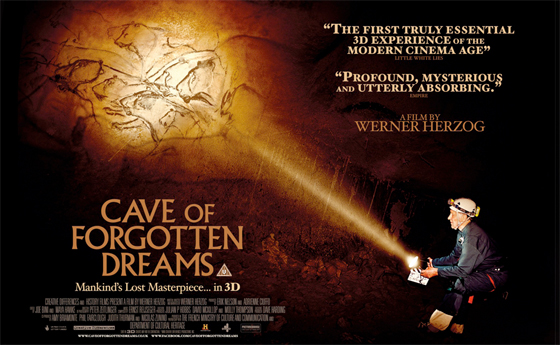 It's weird when a movie shows you something real, yet it's still like a movie. The concept of the 'awakening of the human soul' is a mind blowing idea which Herzog explores this a unique way through showing these incredible 32 000 year old cave paintings. HIs original style of narration will always elevate his films to a different plain of documentary film making and this film pushed that even further. Unlike anything else you are likely to see.
6: MIDNIGHT IN PARIS (Woody Allen)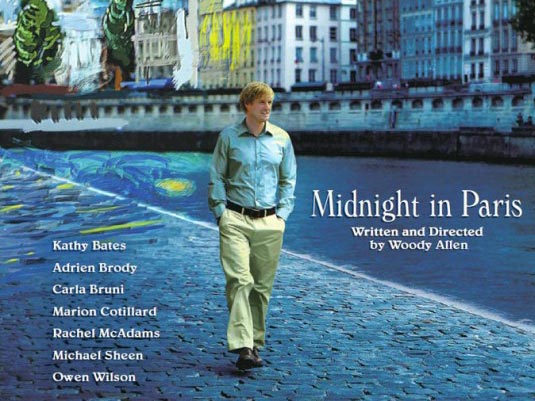 Watching this movie with someone I really like and drinking a really good bottle of red, was a particular highlight of the year. This felt like some kind of guilty pleasure as its kind of fairy tale for middle class pretentious folk, but Woody Allen's script and Owen Wilson's delivery were impeccable, sharp, witty and hillarious. A great highlight was Corey Stoll's portrayal of Hemmingway...was nice to be reminded of a great quote, delivered in a wonderfully dry tone...."No subject is terrible if the story is true, if the prose is clean and honest, and it affirms courage and grace under pressure".
Also Allen's consistency to cast beautiful woman in his movies clearly knows no bounds!
7: HARA-KIRI: DEATH OF A SAMURAI (Takashi Miike)
Whilst Takashi Miike's 13 Assassins was an intelligent kick ass tale of righteousness and contradictions of the Samurai code, Hara Kiri is a much more subtle affiair that is more melodrama than martial arts showcase (however, the final showdown with the shogun's bodyguards is killer!). A powerful family narrative with remarkable visual effects, mise-en-scene and colour pallette's, including a masterfully subtle but powerful use of 3D. So much so that I feel is may weaken its punch if viewed at home. Still though, it was thoroughly rewarding cinematic experience.
8: HUGO (Martin Scorsese)
Being a massive admirer and fan of Scorsese, I was dreading this. The trailer and poster were lame as, and the idea of fluffy kids movie was not appealing....but I still had confidence that there might be something good in it!.....Turns out, Scorsese didn't let me down...far from it! A wonderful movie that remains a fluffy family flick, but there is so much more going on here, and anyone who has ever been emtional drawn into any movie, will take something away from this...its a gentle and happy reminder about why movies matter!....still though, Marty...next time..."go home and get ya fucking shine box!"
9: RED STATE (Kevin Smith)
It's so fucking great when you watch a movie nowadays (especially an American movie) and you literally dont know what is gonna happen next and where it is going. Smith delivered this is in way that was an intriguing as it was entertaining. Although the subject is clearly a mockery of the state of certain insititutions in the US and couldn't help but think that Smith was really showing up the American movie industry. This movie also had one of my crossver sequences, that showed Kevin Smith as a genuinly talented film maker and not just a hero of witty dialogue. The final scene where we find out that the whole disturbing film was a wonderful satire was one of the best payoffs I've had in a movie for a long time.
10: THE GREAT WHITE SILENCE (Herbert G. Ponting)
This is what cinema is here for! A true story like no other. To sum up and depict this story and the men who traveled and shot this remarkable film would be futile here. If it ever plays in a cinema again, you owe it your yourself to see it!
Choosing 10 movies wasn't easy....so here's some more movies that made me feel good, weird, sexy, awkward, warm, cold, intelligent, etc....
KABOOM (Greg Araki) /// MELANCHOLIA (Lars Von Trier) /// MARGARET (Kenneth Lonnergan) /// THE SKIN I LIVE IN (Pedro Almodovar) /// BLACK SWAN (Darren Aaronofsky) /// THE FIGHTER (David O. Russel) /// 13 ASSASSINS (Takashi Miike)
So long 2011...it's been emotional! x